Victoria Falls
One of the Top 10 Zimbabwe Destinations, The Victoria Falls is surely an Oscar-Winning star of the natural world. Included in the list of the world's seven natural wonders, it is also a world heritage site. , Africa's Adventure playground and is listed by Zimbabwe as a RAMSAR site. From that day in 1855 when David Livingstone first experienced the marvel as a scene "gazed on by angels in their flight" and then revealed his sighting to the world, they have been high on many peoples bucket list.
As a World Heritage Site, the Victoria Falls are Zimbabwe's prime tourist attraction and the gateway to the country. The Falls themselves vary dramatically with the seasons, but remain spectacular at any time of the year. The numerous activities available here have made it Africa's adrenaline capital – from white-water rafting to bungee jumping and helicopter flights, Victoria Falls has something to offer everyone.
Hwange National Park
Named after a local Nhanzwa chief, Hwange National Park is the largest Park in Zimbabwe occupying roughly 14 650 square kilometers. It is located in the northwest corner of the country about one hour south of the Mighty Victoria Falls. It became the royal hunting grounds to the Ndebele warrior-king Mzilikazi in the early 19th Century and was set aside as a National Park in 1929. Hwange boasts a tremendous selection of wildlife with over 100 species of mammals and nearly 400 bird species recorded. The elephants of Hwange are world-famous and the Park's elephant population is one of the largest in the world. Hwange National Par definately deserves to be in the Top 10 Zimbabwe Destinations.
Mana Pools National Park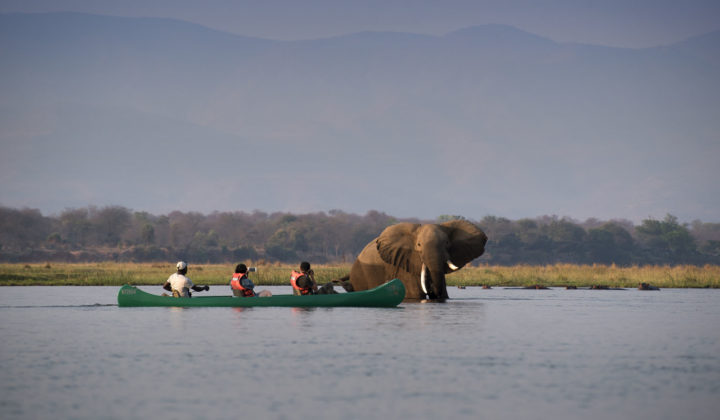 Situated downstream from Lake Kariba on the southern banks of the Zambezi, Mana Pools National Park Park is known for its canoeing and walking safaris. Deservedly one of Zimbabwe's most popular wildlife destinations with close encounters with big game here are commonplace. With healthy populations of elephant, buffalo and lion amongst others. This is Zimbabwe's second UNESCO World Heritage Site and Biosphere Reserve. Mana Pools National Park stretches across 2000km² of prime Zambezi riverfront vegetation, much of which is inaccessible except on foot and as a result is completely unspoilt. The landscape includes islands and sandbanks fringed by dense forests of baobabs and indigenous trees, as well as the rugged Zambezi escarpment. Aside from the excellent walking safaris in Mana, the river adds another dimension to any safari as it is ideal for canoe safaris. This is wilderness at its wildest.
Accessible by road and light air charter flights Mana Pools is a must for big game wildlife viewing fanatics. For those wanting to combine Victoria Falls and Mana Pools, the Kariba Ferry is a cheaper option. If you have a bigger budget and less time then a quick air charter flight is the best option.
For those who want to self drive, Mana Pools National Park is also accessible by tarred road from Harare.
Matusadona National Park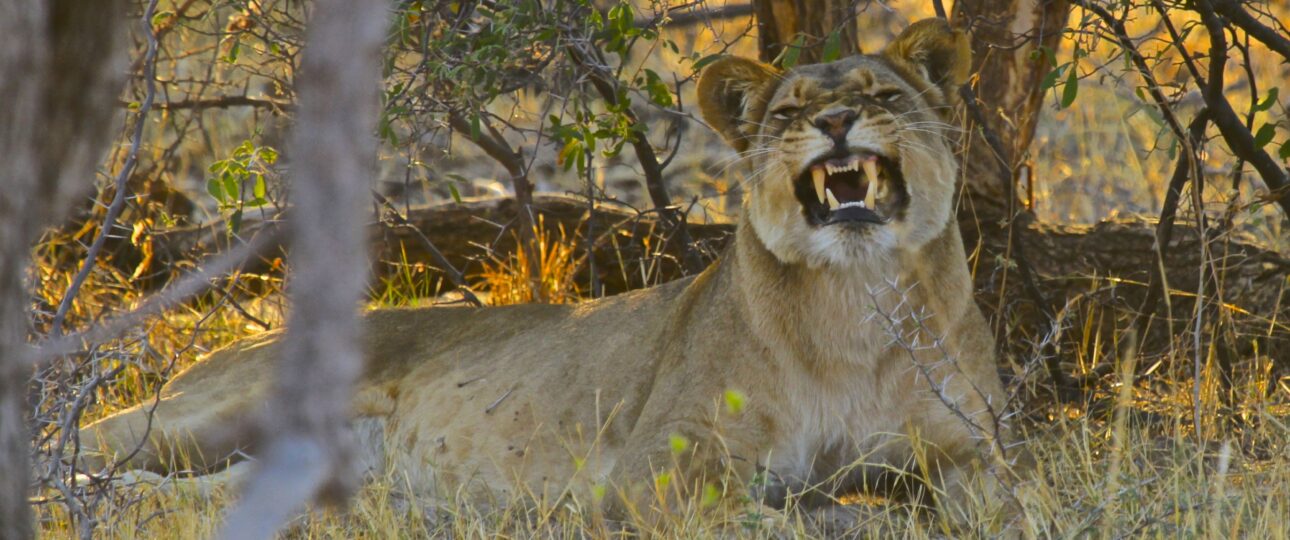 Matusadona National Park is situated on the shores of Lake Kariba. Only Accessible only by air charter, 4 x 4 or boat, this amazing park encompasses Lake Kariba's most beautiful southern shorelines,. The park offers wildlife and water-based activities. making it an excellent birdlife and tigerfishing destination.
The Park comprises some 1 400 square kilometers of diverse flora and fauna. Before the lake was built, Matusadona was a vast, rugged wilderness with limited access. In addition to chartered houseboats on Lake Kariba the park has excellent accommodation options for every traveller. From private luxury safari lodges and tented bush camps to basic self-catering accommodation and well maintained campsites.
Matusadona is an Intensive Protection Zone (IPZ) and home to several relocated rhinoceros. If you are looking to get away from busy buz of tourist traffic and just be in a place where you enjoy a wilderness experience with the harsh beauty of the African bush and the wide horizons of a vast inland lake, then Matusadona National Park is for you. A big 5 destination, including the endangered black rhino. Elephant, buffalo and hippos are abundant on the lake shore and can be seen.
Gonarezhou National Park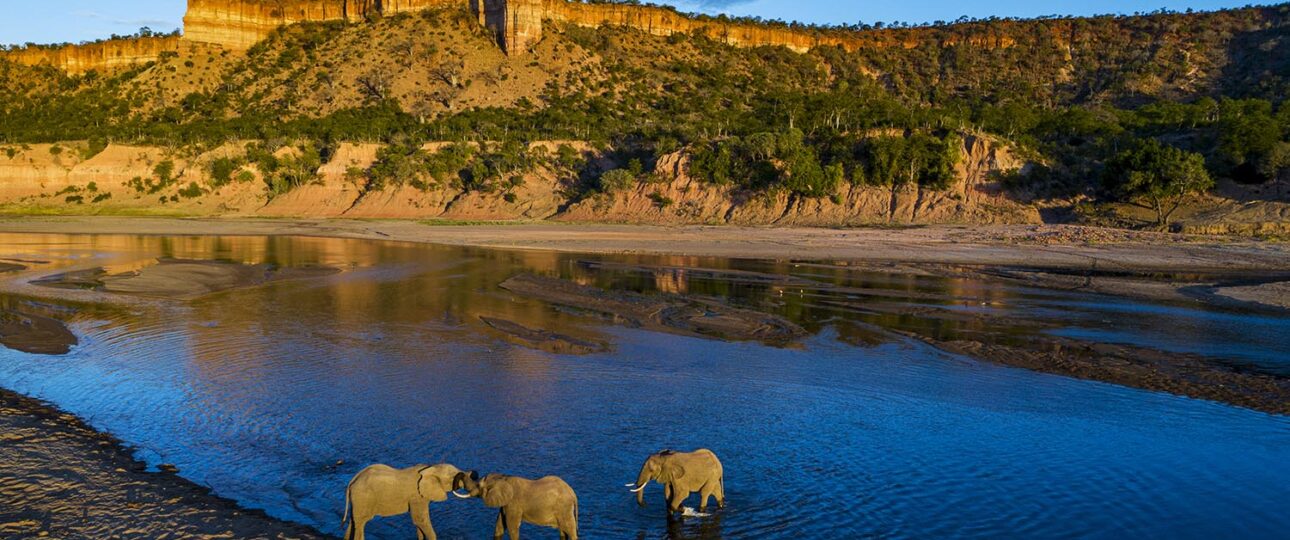 Gonarezhou National Park, in Zimbabwe's South-East Lowveld, covers just more than 5 000 km² of some of the most spectacular scenery in the region incorporating the iconic Chilojo Cliffs, wide meandering rivers and extensive woodlands. Widely known for its unique wilderness character, the Park's reputation as a premier destination for quality wildlife sightings is also growing and this is one of our top picks as one of the Top 10 Zimbabwe Destinations. Home to about 11 000 elephants, this wildlife national park truly deserves its vernacular name as 'Place of Elephants'.
Owing to its vast size, rugged terrain and its location away from main tourist routes, large tracts of this wildlife reserve remain as pristine wilderness. At 5,053 km² it is the Zimbabwe's second-largest game reserve after Hwange National Park. Gonarezhou is a Shona name meaning "elephant's tusk." It forms part of the Great Limpopo Transfrontier Park, a peace park that links it with the Kruger National Park in South Africa and the Limpopo National Park in Mozambique. Animals can move freely between the three sanctuaries. The park is a protected area drawn up between the Zimbabwe Parks and Wildlife Management Authority (ZPWMA), and the Frankfurt Zoological Society (FZS). Established on the background of a strong and long standing relationship developed over 9 years of support by FZS for Gonarezhou, the Trust is directly responsible for management of Gonarezhou for a period of 20 years, and became fully operational on 1st March 2017.
Our four top lodge picks in Gonarezhou include Chapungu Camp, Chilo Gorge Safari Lodge, Chilo Gorge Tented Camp and Pamushana Lodge. Gonarezhou is certainly an excellent destination for those wanting to escape the usual crowds and experience Zimbabwe at it rawest. We have visited all these lodges over the years and we always look forward to visiting again to give you the best recommendations.
Great Zimbabwe
Great Zimbabwe is an ancient city in the southeastern hills of Zimbabwe near Lake Mutirikwe and the town of Masvingo, close to the Chimanimani Mountains and the Chipinge District. It was the capital of the Kingdom of Zimbabwe during the country's Late Iron Age. Construction on the monument by ancestors of the Shona people began in the 11th century and continued until the 14th century, spanning an area of 722 hectares (1,780 acres) which, at its peak, could have housed up to 18,000 people. It is recognized as a World Heritage Site by UNESCO and definately one of the Top 10 Zimbabwe Destinations.
These ancient ruins served as a royal palace for the Zimbabwean monarch and would have been used as the seat of political power. One of its most prominent features were the walls, some of which were over five metres high and which were constructed without mortar. Eventually, the city was abandoned and fell into ruin.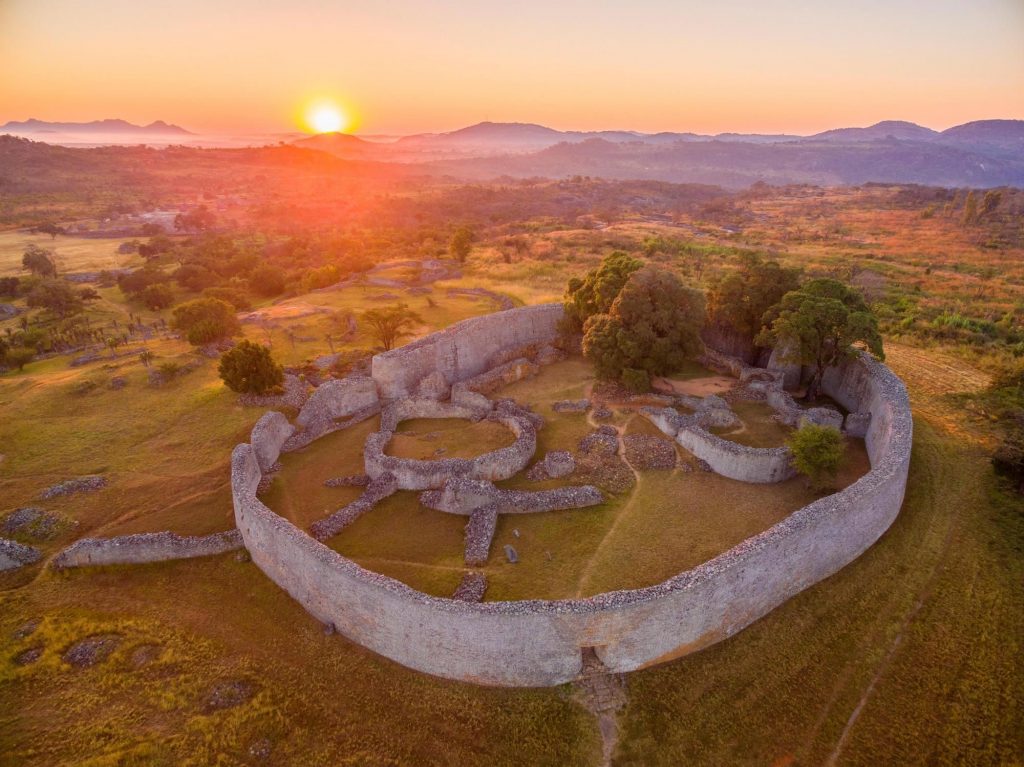 Lake Kariba
Lake Kariba is the world's largest man-made lake and reservoir by volume an one of the Top 10 Zimbabwe Destinations. It lies 1,300 kilometers upstream from the Indian Ocean, along the border between Zambia and Zimbabwe. The name 'Kariba' is thought to be a corruption of a local word 'Kariva' which means "little trap". It is believed when those who wished to construct the dam wall wanted to explain the nature of the project to the locals, they emphasised that they wanted to build a little water trap-Kariva.
Kariba is now a small and spread-out resort town which is the starting point for tourism activities centered on the lake of the same name and also a gateway to Mana Pools and Matusadonha. It has since become one of the most sought after holiday destination in Zimbabwe and the region. Its huge volumes of water creates the boundary between Zimbabwe and Zambia and the extensive and attractive shorelines has become home to large populations of wildlife and its islands are dotted in a picture-postcard deep blue sea against a backdrop of high escarpment mountain ranges on each side. Amazing sunsets over the lake have become a legendary feature of a Kariba stay, turning the calm water golden to shot silk in the dusk with the beauty of  bare tree branches silhouetted in the foreground.
Nyanga | Eastern Highlands consists of 300km (186mile) mountain range defining Zimbabwe's eastern border with Mozambique. This region encompasses three main mountain ranges – the Chimanimani in the south, Bvumba near Mutare and the Nyanga National Park in the north.
We call it our "little Scotland", a destination filled spectacular natural beauty: rolling hills, green forests, rugged peaks, misty valleys, deep gorges, cascading waterfalls, and sparkling rivers and lakes.
Nyanga | Eastern Highlands is well known for Zimbabwe's highest mountain, Mount Nyangani, and its highest waterfall, 762-metre Mutarazi Falls. With a fair bit of wildlife the Eastern Highlands are a birders paradise. Lots of birds, wonderful hiking trails and excellent trout fishing. For the golf fanatics, Nyanga caters for every traveller. Stay a few nights at Leopard Rock Hotel and play at one of the world's best championship golf courses, while the beautiful Vumba Botanical Gardens are worth exploring for wonderful exotic and indigenous plant life.
Go on a multi-day hiking safari which offers you the best way to explore the rugged park. Camping is open throughout the reserve or if you are up for a real adventure and thrillingly different, sleep in one of the caves scattered throughout the park. The most popular and best scenic hike in Zimbabwe is the five-night Turaco Trail, which traverses magnificent mountain and forest landscapes through Mutarazi Falls and Nyanga National Parks to the summit of Chikorokoto, passing waterfalls, rivers, valleys and grasslands on the way.
Just inside the Southern boundary of Nyanga National Park lies the Pungwe Gorge. Another popular viewpoint. Rafting and kayaking trips are offered between December and April on the Pungwe River.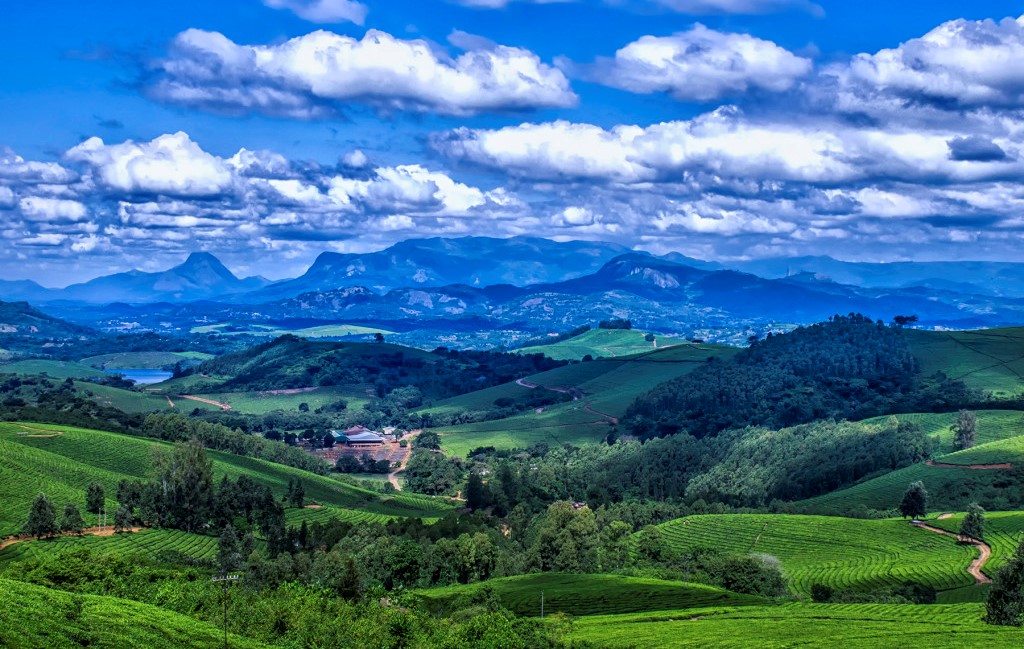 Binga & Mlibizi
Binga & Mlibizi are famous spots for fishing and also act as boating harbours and we rightly include these two destinations net to each other in our Top 10 Zimbabwe Destinations. Binga is a district on the south eastern shore of Lake Kariba. Mlibizi is a small fishing and boating Harbour on the western side of Kariba dam. Famously referred to as the western terminus for Lake Kariba ferry services it is the gateway to Kariba and Mana Pools from other nearby destinations such as Hwange National Park and Victoria Falls.
Binga is a destination endowed with amazing culture plus lots of activities for inquisitive travellers. Activities include the "interesting" Batonga Museum, meeting the fascinating Tonga people, visit a crocodile farm and the natural Binga hot springs We cannot talk of Binga Activities without mentioning boating and fishing. As a result of being on the Zambezi River, the area offers great fishing opportunities. Game fishing enthusiasts will love angling for Tigerfish during our guided fishing tours.
You will also get to . If you are lucky you will see elephants and other wild African animals during your stay.
Accommodation in the Binga & Mlibizi area is restricted to privately-owned lodges, self-catering houses, a small hotel and a lakeside resort (self-catering chalets and a campsite) next to the Kariba ferry terminal. For those who want to go for fishing Pontoon-style boats can be hired for fishing at a daily rate.
Further north of Mlibizi is the fishing, boating and cultural centre of a good place for visitors from Bulawayo, Hwange or the Victoria Falls who would want to enjoy a lake cruise, a chartered houseboat or a fishing holiday on Lake Kariba without having to go all the way to Kariba town.
Binga is also a good overnight stop for self-drive clients on a self-drive adventure on the long, slow 4×4 gravel road along the southern shore of Lake Kariba.
Matobo Hills National Park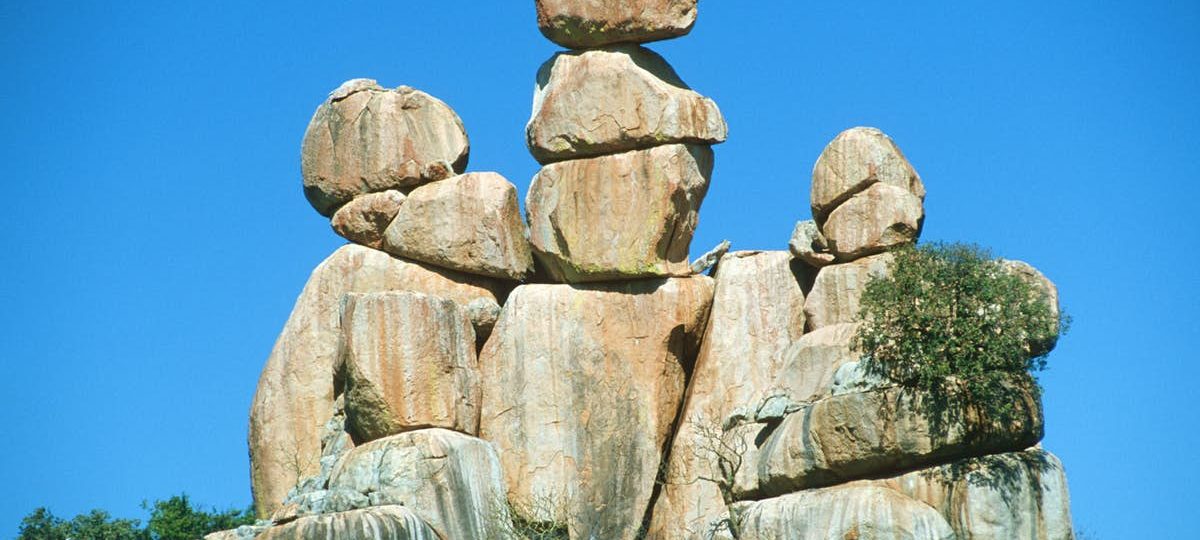 Matobo Hills National Park is in southwest Zimbabwe and home to some of the most spectacular granite scenery in the world, the Matobo Hills National Park is definately a must visit destination when in Zimbabwe . In the local Ndebele language, Matobo means 'bald heads' – a reference to the granite domes in the area which create the scenic beauty that has become the epitome of this area. These rocks exist as giant boulders, with smaller versions balancing atop the other, creating formations similar to art. A Unesco World Heritage Site Matobo Hills National Park is a stunning and otherworldly landscape of balancing rocks known as kopjes – giant boulders unfeasibly teetering on top of one another. When you see it, it's easy to understand why Matobo is considered the spiritual home of Zimbabwe.
The Matobo Hills National Park is separated into two sections – the recreational park and the game park. The recreational area includes World's View (a scenic viewpoint and burial site of Cecil Rhodes) and ancient San rock art caves. The wildlife park may not have the most prolific animals in Zimbabwe – it's been hard hit by poaching – but it remains one of the best places to see both black and white rhinos (although the black rhinos are difficult to spot).
The walls of Nswatugi Cave feature Stone Age rock art. The park has significant populations of black eagles and both black and white rhinos. The grave of Cecil Rhodes, founder of former British colony Rhodesia, is carved into the summit of Malindidzimu.
Occupying a total area of 44 500 hectares. The park was awarded World Heritage status in June 2003. Matobo Hills is also an Intensive Protection Zone for endangered black and white rhinoceros. The park offers a diverse range of tourist attractions and activities apart from the its unique balancing rock features with the popular "mother and child" balancing rocks.