Special Interest Safaris
If you are looking for special interest safaris, our safari consultants will incorporate this in the planning process. Whether you're looking for a bird-watching, photography, horse riding or waking safari and adventure with like-minded travelers, take advantage of your years of experience in designing perfectly tailored safaris. Our biggest assets is our network and team of highly trained, multi-lingual, expert safari guides, drivers, and trackers who will give you the experience of a lifetime making sure you tick all the boxes on your safari.
Contact Us and let us help you build your next custom birding safari, Photographic or any other special interest you might have. We're ready to tailor-make a safari around just about any special interest you might fancy whilst maximizing your overall Zimbabwe Safari experience.
We have travelled and we know where all the hidden gems of Zimbabwe and Southern Africa are. Our Special Interest Safaris knowledge within the destinations we sell ensure you leave Africa satisfied.
Walking Safaris are the Ultimate African Experience. If you want to get really close to nature then a Walking Safari is the best option for you. Leave your footprints behind as you journey on foot through big game areas, scenic valleys and mountains where the focus includes both wildlife viewing and learning about the ecology of the area you are exploring. Your guides are fully trained, and often licensed to carry a firearm (in places where guides do not carry a rifle, a National Parks armed ranger will usually accompany the walk).
Zimbabwean guides are amongst the best in Africa based on their knowledge about wildlife and the ecosystem. Our walking Safaris in Zimbabwe include destinations such as Hwange National Park, Zambezi National Park, Mana Pools, Gonarezhou and the Eastern Highlands. Also included is Zambia and Botswana.
Walking Safaris do not always guarantee 'big game' sightings as you would from a vehicle, but being out in the wilderness on foot allows your senses to connect with nature. Our excellent safari guides will always encourage you to use all these senses, and will teach you how to interpret the incredible natural world around you. Contact Us and start planning your next photographic safari.
.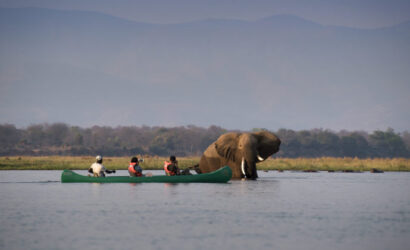 Available through out the year:
Jan
Feb
Mar
Apr
May
Jun
Jul
Aug
Sep
Oct
Nov
Dec
Africa is a birding paradise and you can visit Zimbabwe with us for wonderful birding safaris experience with those who know it best. Zimbabwe is an incredible "must visit" destination for any avid bird watcher with over 700 species having been recorded in Zimbabwe. The most sort after are the Taita Falcon and the Angolan Pitta.
The Zambezi River provides a crucial lifeline stretching from Victoria Falls via Kariba and onto Mana Pools also extending to the Lower Zambezi National Park in Zambia. Africa is a birding safaris paradise.
Just next door in Zambia is one of highest species concentrations in Africa with one of Africa's most prized birding destinations, Lochinvar National Park covering 450km2 on the Kafue floodplains which has 428 known species. That translates to almost a different bird species for every square kilometer!
Other birding destinations also include Namibia and Botswana. Contact us for more information and start planning your Africa Birding Safari with us.